15 of the best swimming pools in South India
There's nothing like cooling off in a shimmering, inviting swimming pool after a busy day exploring or sightseeing in Kerala, Karnataka, Tamil Nadu or Goa, or starting the day with an invigorating few lengths if you're feeling more energetic.
The best swimming pools in South India
We've crawled our directory of favourite hotels for the best pools to suit everyone whether you want to dunk, paddle, splash, swim or just take in the amazing scenery.
Best pool for Relaxing
Cardamom County, Periyar, Kerala
After a long day of exploring Kerala, this swimming pool at the Cardamom County nature retreat is the perfect place to relax. Take in the stunning views of the surrounding scenery and breathe in the sumptuous scents from the spice plantations as you unwind and let your cares drift away.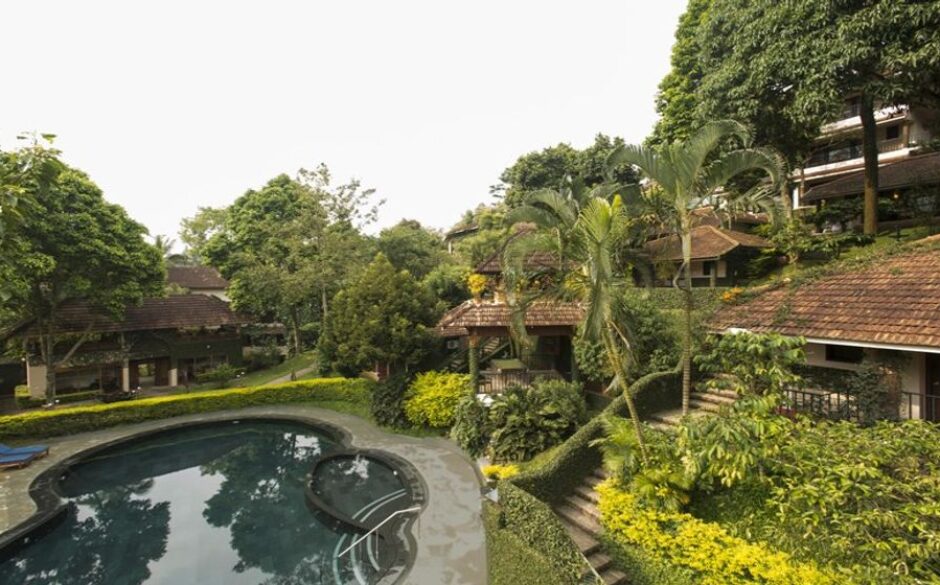 Best pool for Swimming
Radisson Blu Temple Bay, Mamallapuram, Tamil Nadu
If you want to be a little more active on your break and get a few lengths in, then the Radisson Blue Temple Bay is a great choice, with its large 27,000 square foot swimming pool meandering through the resort. There's also an infinity pool for relaxing and taking in the beautiful waterfront views. One of the best swimming pools in South India.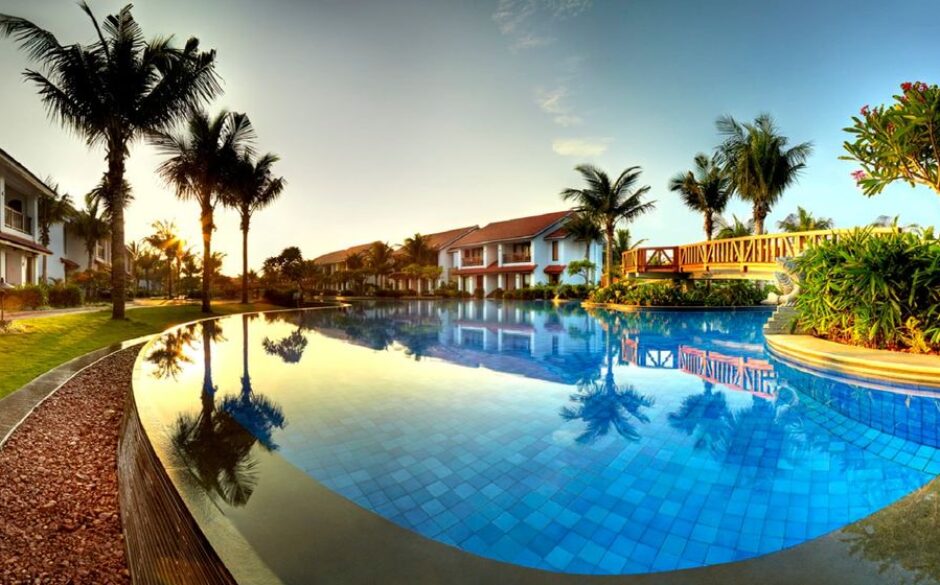 Be inspired by our South India tours
Best pool for Taking the plunge
Heritage Madurai, Madurai, Tamil Nadu
Cool off after a hot day and reinvigorate your circulation with a dunk in a plunge pool on your own private sun deck in a luxury villa. The beautiful Heritage Madurai hotel is also home to the magnificent Temple Pool, which will make you feel immersed in history.
Best pool for Luxury
A popular resort for weddings and honeymoons, the Leela resort and spa is the perfect place to be pampered on your tour. Set on top of a cliff, the infinity pool is a highlight, giving you an amazing view of the Arabian Sea, especially at sunset whether you take a dip or enjoy a poolside meal.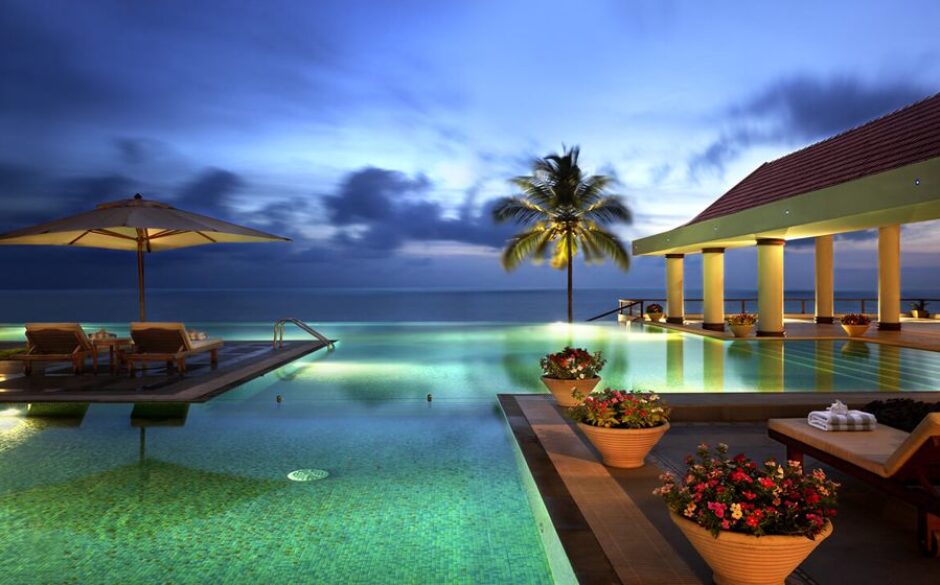 Best pool for Something spectacular
Vythiri Villa and Tree House Resort, Wayanad, Kerala
Set amongst the leafy foliage of the rainforest The Kerala Vythiri Resort is a truly special place. The outdoor pool lets you be at one with nature, but the honeymoon pool is really magical – you can look down onto it through the glass floor of the villa, almost like you're sleeping on water.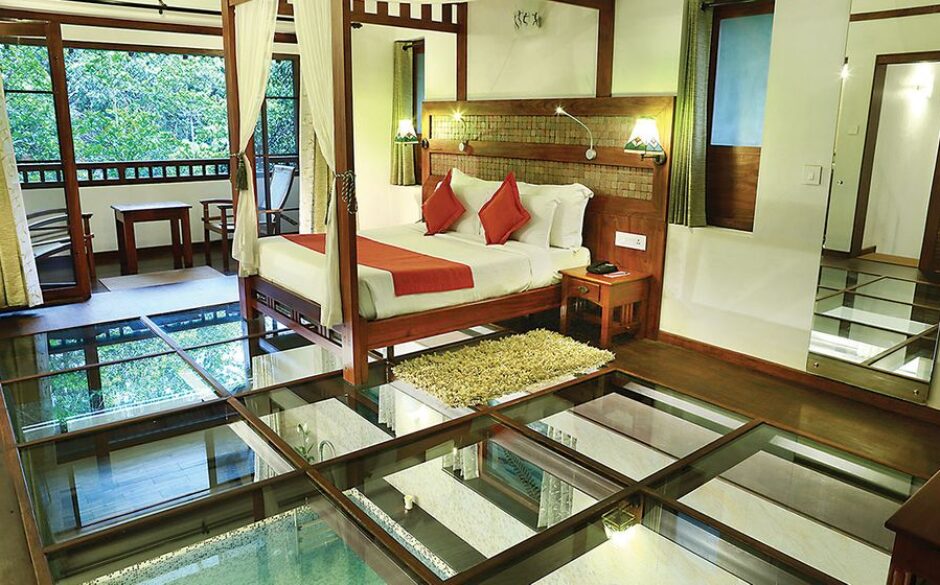 Best pool for Sunset swimming
Kerala Niraamaya Retreat Kovalam, Kerala
Set on a cliff top, this amazing accommodation offers spectacular views over the Arabian Sea. The infinity pool at the Kerala Niraamaya Retreat is fringed with palm trees and is the perfect spot to watch the sunset, as you gaze out to sea at the end of your day.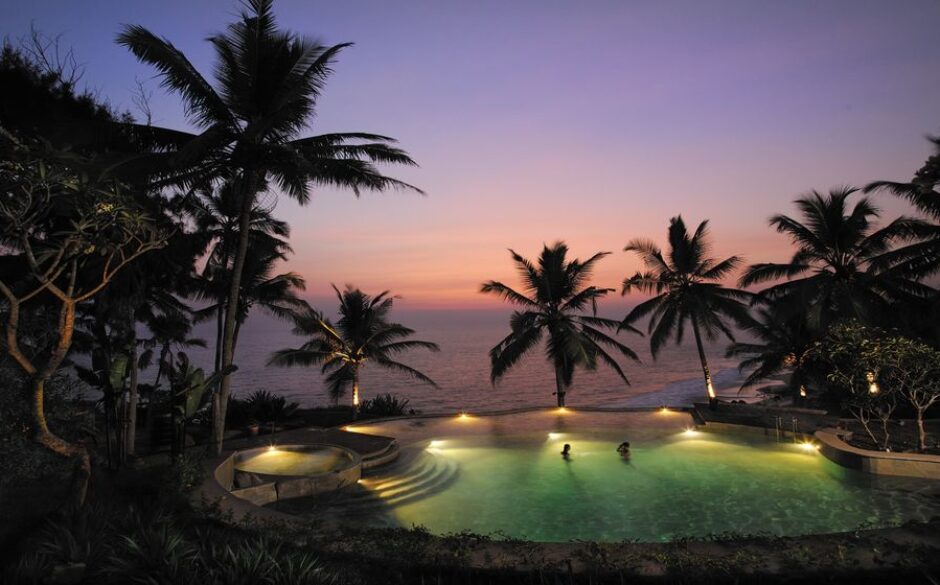 Best pool for Architecture
Palais De Mahe,  Pondicherry, Tamil Nadu
Pondicherry is synonymous with its vibrant yellow colonial buildings, and this theme continues at the Palais De Mahe hotel, with bright hues and gorgeous archways surrounding the courtyard swimming pool. If you're feeling energetic, the long rectangular shape is ideal for swimming lengths.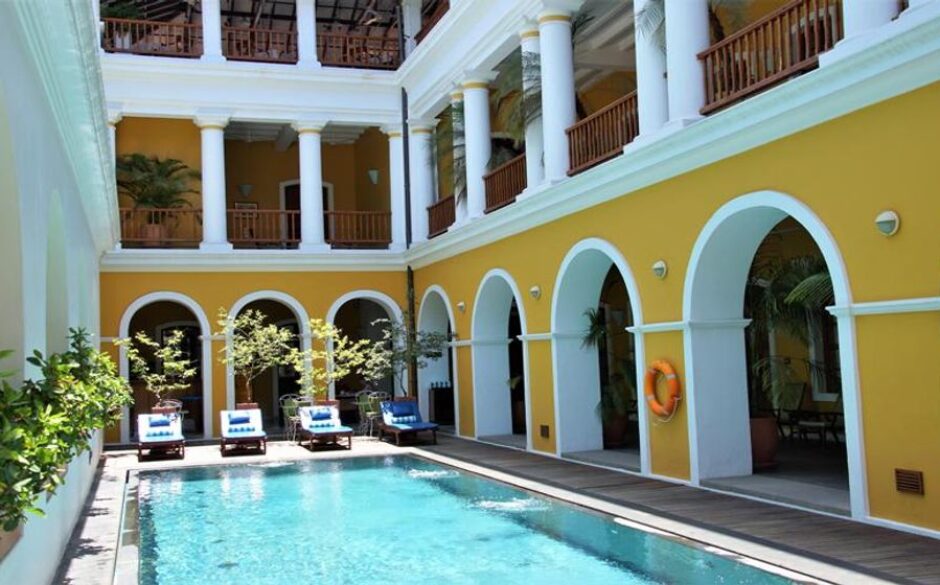 Best pool for Romance
Greenwoods Resort, Periyar, Kerala
Whether you're looking to go on honeymoon, or celebrate a birthday or anniversary with your true love, then Greenwoods is the place. The secluded villas each have their own plunge pool, ideal to idly dangle your legs in while raising a toast with a glass of something sparkly.
Best pool for Poolside dining
Heritage Resort, Hampi, Karnataka
Not only does the Heritage Resort in Hampi have a fantastic pool to swim in, you can also dine next to it, sampling the menu made up of fresh fruit and vegetables grown in the on-site organic farm. End the evening with a post-meal swim (if you're not too full).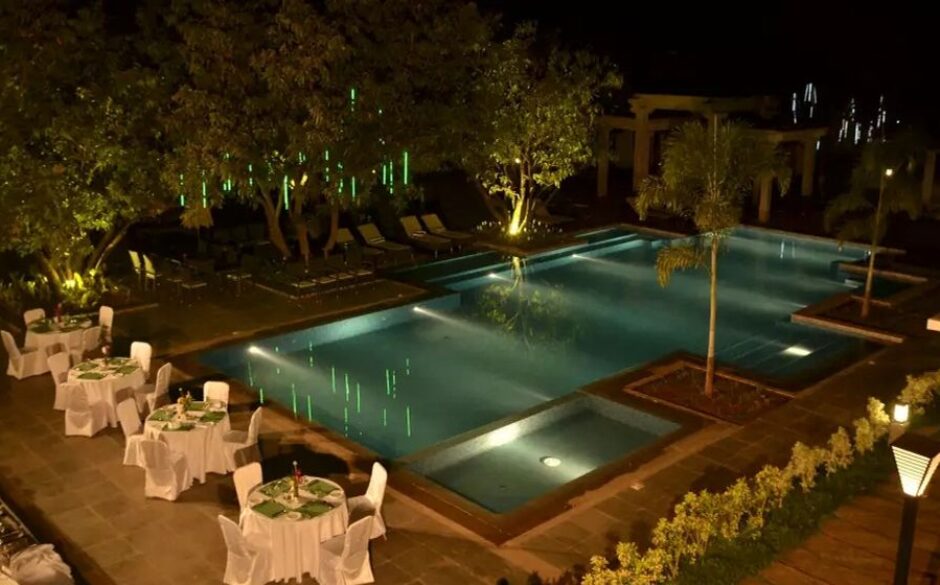 Best pool for Families
If you're travelling with children to South India, the Crowne Plaza in Cochin is a great choice of accommodation, offering children's activities and babysitting services. Younger travellers will be happy making a splash in the two outdoor pools, one of which is a designated children's pool.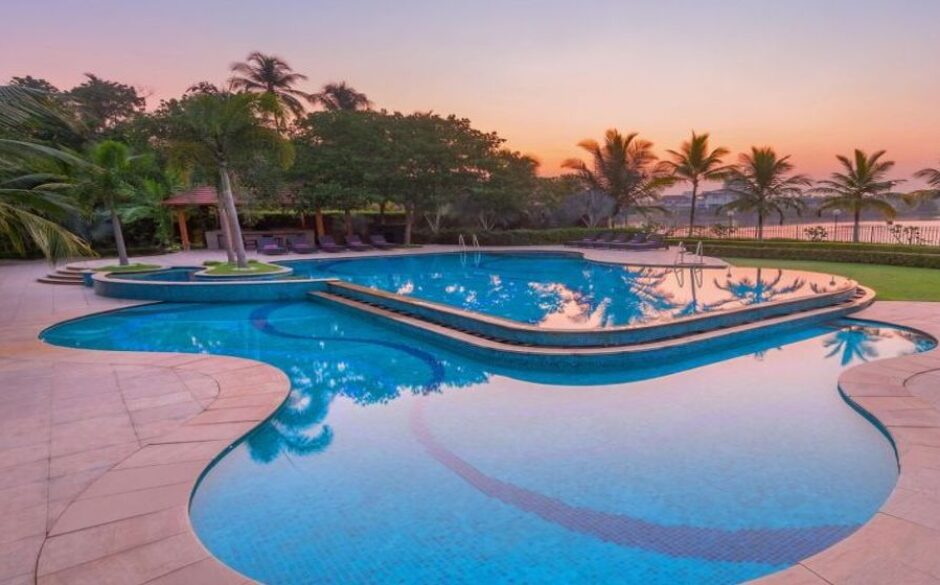 Best pool for Swimming in the shade
If you're looking to swim outdoors but with a little shelter from the sun, then this glorious pool at The Serai Kabini, Karnataka with overhanging palm trees is ideal. We recommend putting your feet up on a lounger of an evening and watching the candlelight reflecting on the glistening water.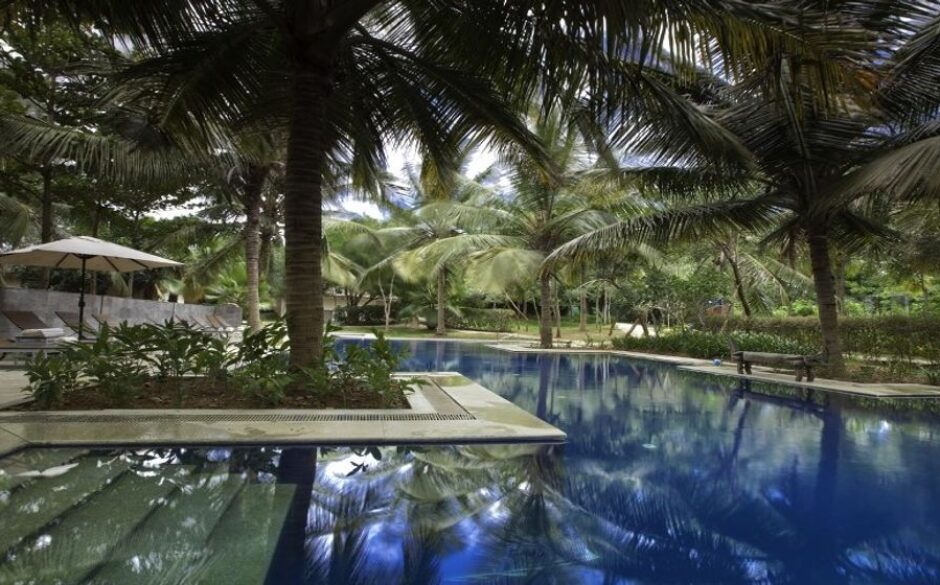 Best pool for Rooftop glamour
Fragrant Nature Cochin, Kerala
Be on top of the world (or the building at least) in the amazing rooftop pool at the boutique Fragrant Nature Cochin. Experience the city at a distance from the crowds and be wowed by spectacular views before peacefully floating along under blue skies.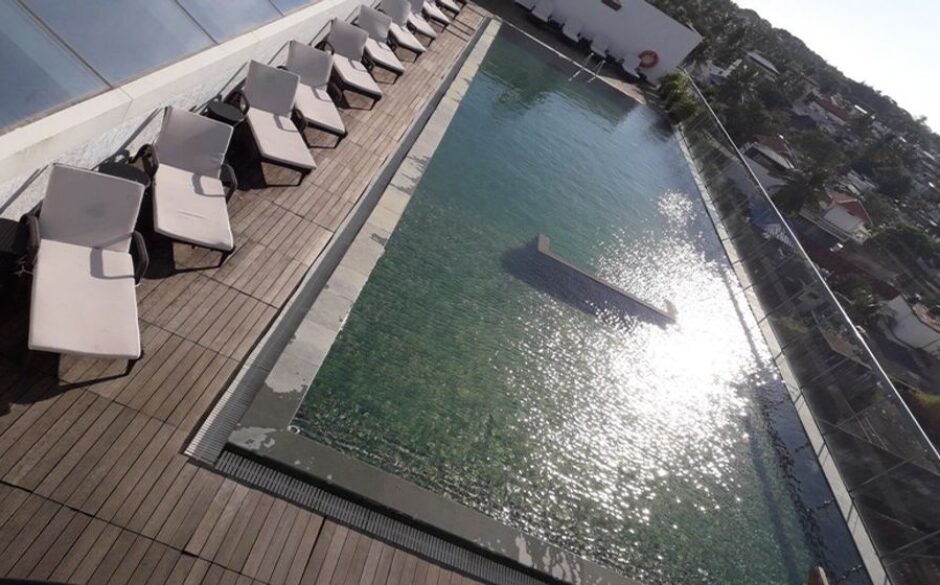 Best pool for Getting back to nature
If you're looking to get away from it all, then the Wayanad Wild is the place to really hide away and unwind. Situated in the rainforests of Lakkidi, the pool surrounded by the wilderness is a truly breathtaking spot, that evoke a tinge of sadness when visit the local swim baths back home.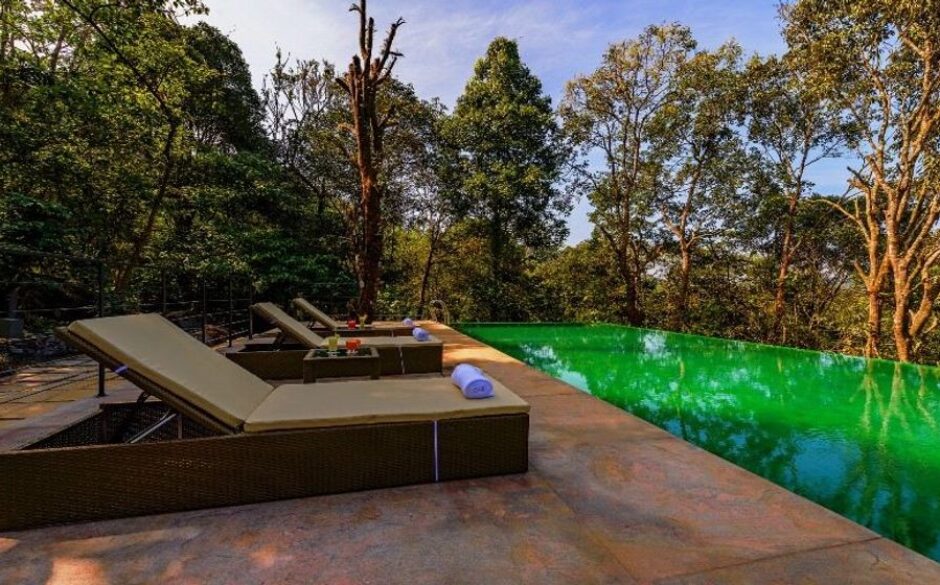 Best pool for Lakeside views
The tranquil, large pool at Kumarakom Lake Resort will make you feel as if you're swimming on the adjoining sparkling lake. His Royal Highness Prince Charles spent his 65th birthday here with Camilla, Duchess of Cornwall, and we're sure they couldn't resist a regal dip!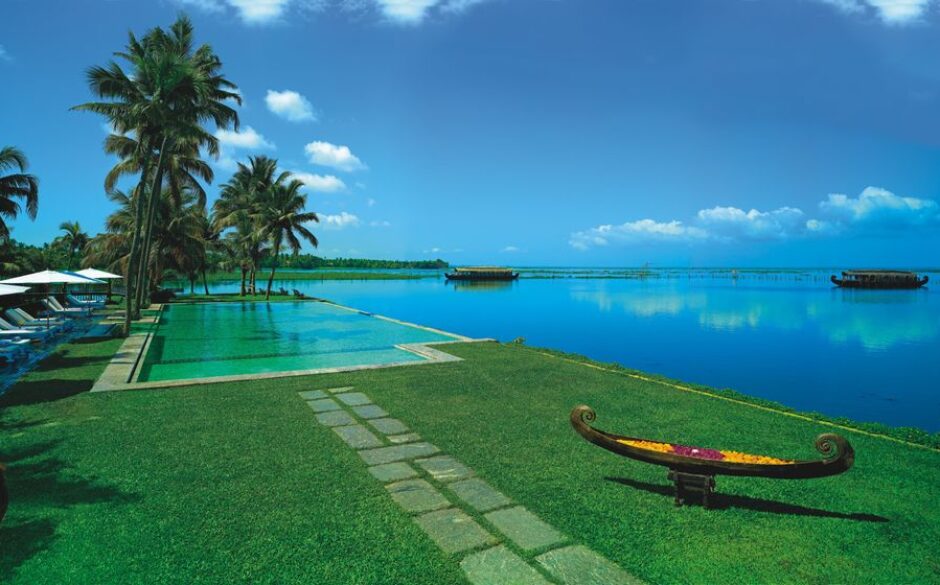 Best pool for Lazy lagoon life
Cast your cares away in the cool waters of the gorgeous lagoon-shaped pool at the Coconut Creek Resort, Goa. Fringed by swaying palm trees, this oasis of calm is the perfect spot to soak up the sun on a luxurious lounger whilst sipping a cool drink from the poolside bar.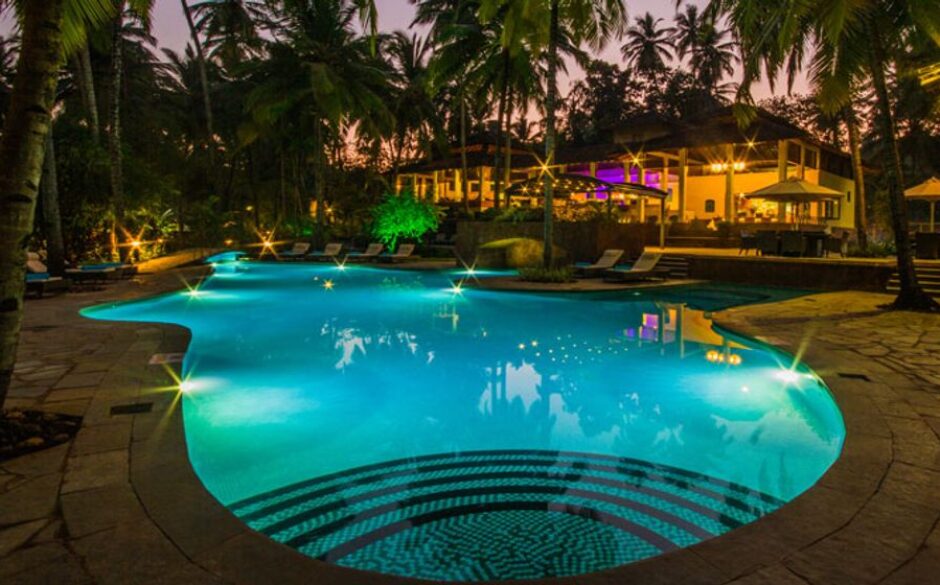 Fancy taking a dip in any of the picture-perfect pools in our list of the best swimming pools in South India? Contact our travel experts today!