India The Home of Yoga
Yes, yoga has become something of an obsession in the West, but India the home of yoga is a spiritual place where you can refresh your body and soul.
Some of our Favourite Yoga Retreats in India
Whether you're a devout yogi getting back to your roots or an experimenting tourist trying out a new activity, there are numerous yoga programme choices for you to enjoy. You can complement your yoga practice with other rejuvenating ayurvedic activities and foods at a wellness resort, such as SwaSwara in Karnataka (which you will visit during any of our wellness or ayurvedic experiences) or get stuck in at a popular ashram like Sri Aurobindo in Pondicherry.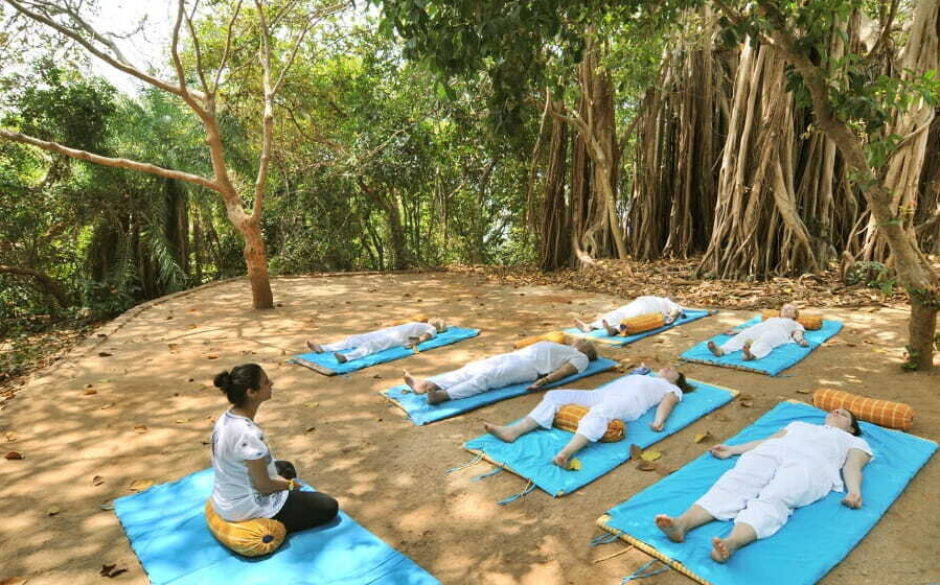 Do you want to go completely off the grid and eat only raw food for 6 weeks or are you keen to just try something new on your beach break? We have options for everyone – just get in touch and we'll craft an experience to your needs.
Yoga is welcoming to all ages, bodily abilities and fitness levels. You may even find yourself maintaining your yoga practice back in the UK when you might not have expected to.
Getting in shape before your Yoga holiday to India
If you're thinking about getting used to the yoga movements before your trip, we recommend booking a class locally (there are yoga centres in every city in the UK) or trying out some simple progressions at home – guided youtube videos are great. (Though, of course, if you have any concerns, please get in touch with your GP before starting – yoga should never be painful!)
One of the easiest to follow (and most popular) online guides is YogaWithAdriene; Adriene Mishler has hundreds of free videos in a range of difficulty levels on YouTube that requires no specialised equipment and can be carried out on your bedroom floor. Alternatively, to practise meditation before your trip, you could try an app like Headspace or Calm, which provide guided meditation practices.
We hope you've enjoyed our guide to India the home of yoga. For our yoga tours, click here.