We often get asked where the best places to find tigers in India are, as spotting these magnificent mammals is high on many tourists' wish lists.
Although tigers in India are seriously endangered, numbers are on the rise thanks to the herculean efforts of conservationists. However, there is no guarantee of a tiger sighting, but visiting the wonderful National Parks India has to offer is still a rewarding experience, with the chance to spot a multitude of creatures and an array of flora.
We'd like to think that India is just as good a safari destination as Africa; it even has its own 'Big Five' – the Asiatic leopard, Asiatic lion, Bengal tiger, Indian elephant and the One-horned Rhino.
The 12 best places to find tigers in India
With so many places to choose from, we've whittled down the best places to find tigers in India we think you'll like.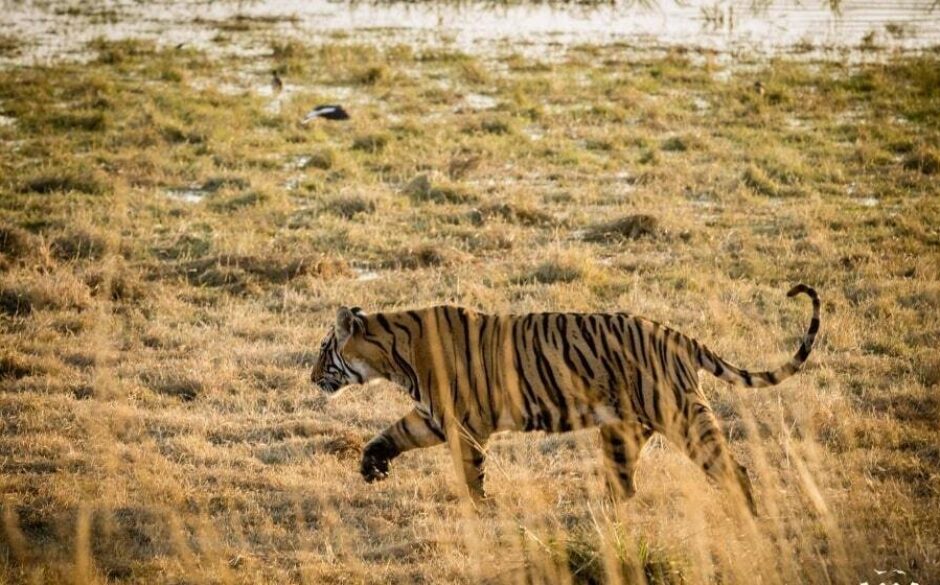 Where can you see Tigers in India?
India has around 3,000 tigers which makes up about 80% of the worlds tiger population! There are over 50 designated Tiger Reserves, so our handy guide to the best places to find tigers in India will help whittle them down to some of our favourite parks where you're more likely to get lucky with your tiger spotting.
It can be tempting to try and cram in as many parks as possible on your tour, but focusing on a few and spending two or three days in each is a good strategy. Bear in mind that some distances between parks can be very long, and the early morning safaris can make it all a bit exhausting. That's why a longer stay in each park is advisable to give you more chances to spot those stripes.
When is the best time to see Tigers in India?
The best time to spot tigers in India is in the months of April, May and June because the heat brings them out to the watering holes. However, if the high temperature is too much for you, then we suggest the cooler months of March to mid-April. The winter months are cold and misty, so sightings are less likely unless you're in the South.
The best places to find tigers in India
North India
Corbett Tiger Reserve, Uttarakhand 
Top of our list of the best places to find tigers in India is Jim Corbett National Park in Uttarakhand. Corbett Tiger Reserve has the highest tiger numbers among India's 50 tiger reserves with 252 inside the reserve and 266 using the reserve, according to a report released by the Union Environment Department.
Founded in 1936 as Hailey National Park, Corbett is India's oldest and most well-known National Park. In 1973, the first Project Tiger launch was held there. The park is named after Jim Corbett, a British wildlife photographer, former hunter, tracker, naturalist, and author.
This distinct tiger habitat is 520 square kilometres in size and includes hills, meadows, riverine belts, marshy depressions and a sizable lake. It is one of the few tiger reserves in India that permits overnight stays, making it a truly unique experience for visitors. The park is a favourite among wildlife enthusiasts as it is also home to unusual species like the endemic fish-eating crocodile.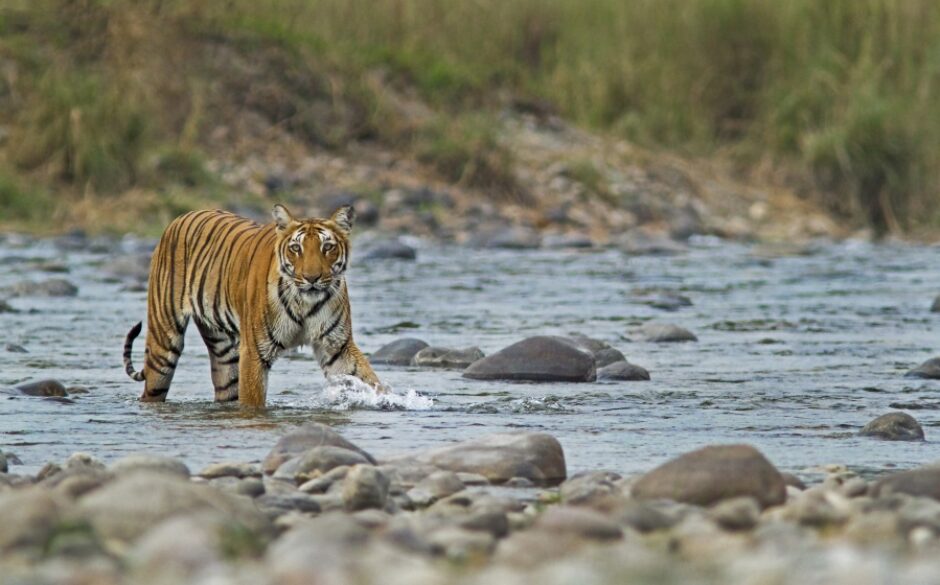 Ranthambore National Park, Rajasthan
Ranthambore National Park is one of the best places to find tigers in India, and is conveniently positioned if your tour includes the Golden Triangle destinations of Agra, Delhi and Jaipur. It's home to around 81 diurnal tigers who are active during the day, unlike most tigers who are nocturnal, increasing your chances of glimpsing them.
Once the hunting grounds of the Jaipur Maharajas, Ranthambore, is one of the most famous national parks in India and is home to a wide variety of mammals and reptiles, 272 kinds of birds, and around 300 species of plants. Nature aside, the UNESCO World Heritage Site Ranthambore Fort lies at its centre which is well worth a visit. The park can get very busy, so book your tour in advance to secure your time slots for the best zones in the park.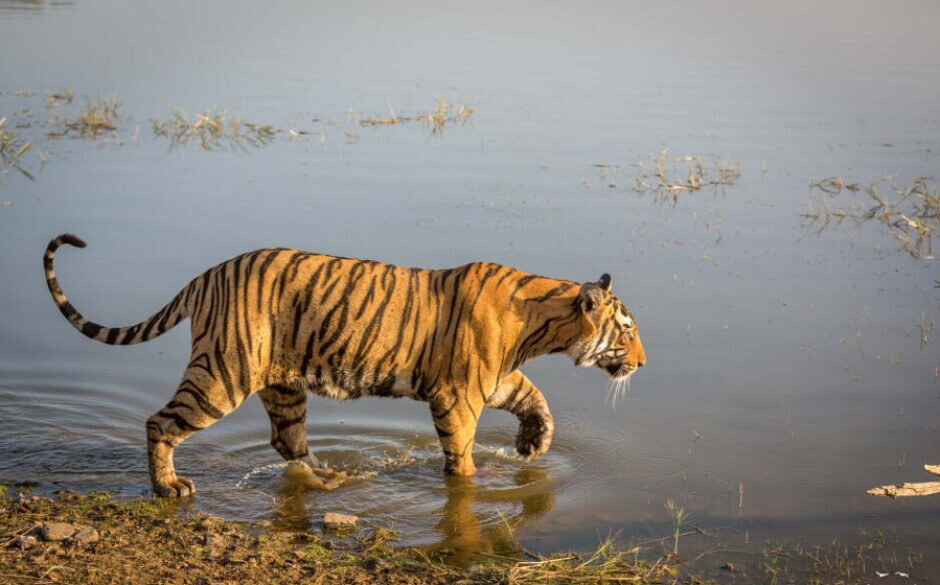 Tiger Spotting Tours of North India
Central India
Bandhavgarh National Park, Madhya Pradesh
Bandhavgarh National Park, formerly the wildlife reserve of the Maharajas, is a great place to see a flash of striped fur because it contains one of India's higher tiger populations. At the latest count, the park is home to around 60 tigers. As it's fairly small in size compared to the other National Parks, Bandhavgarh is one the best places to find tigers in India as you have a good chance of viewing a tiger up close on safari.
In addition, the park is home to a sizable leopard population, 250 different bird species, 70 different kinds of butterflies, and a wide variety of reptiles.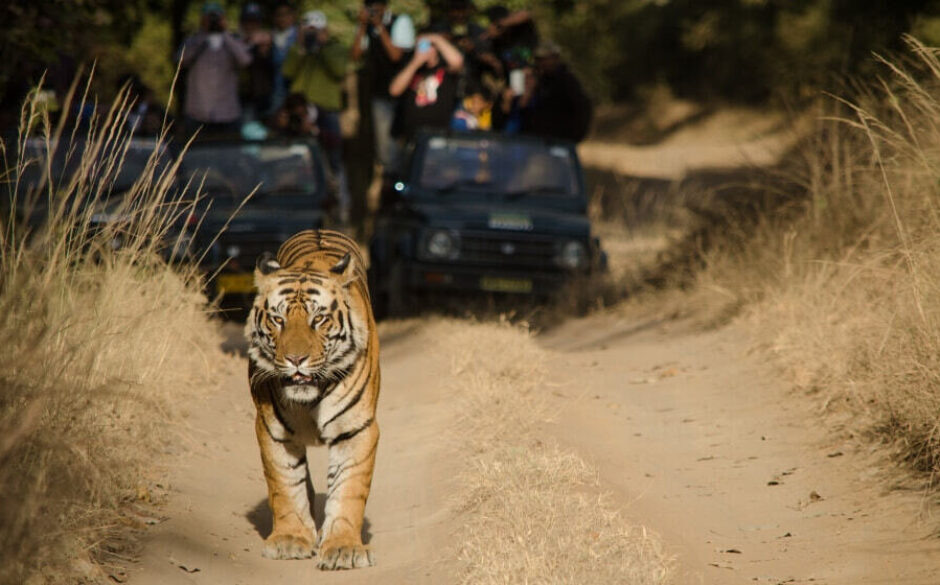 Pench National Park, Madhya Pradesh
Pench National Park was the inspiration for Rudyard Kipling's The Jungle Book, and hundreds of tourists come here to view many of the characters from the tale. These include Baloo (the sloth bear), Akela (the Indian wolf), Raksha (the female Wolf), and of course Shere Khan (the Royal Bengal tiger).
In January 2022, the park lost its most famous resident, Tigress T15, more commonly known as Collarwali. She died of old age at 16, a mean feat considering the average age of a tiger is 12 and she gave birth to 29 cubs in eight litters! She also gave birth to 5 cubs in one go, which is very rare for a tigress to do. Today, Pench has over 53 tigers living in the reserve and an additional 80 tigers (approximately) who come to visit.
The park is also home to barking deer, four-horned antelopes, Indian leopards, striped hyenas, and a variety of native birds.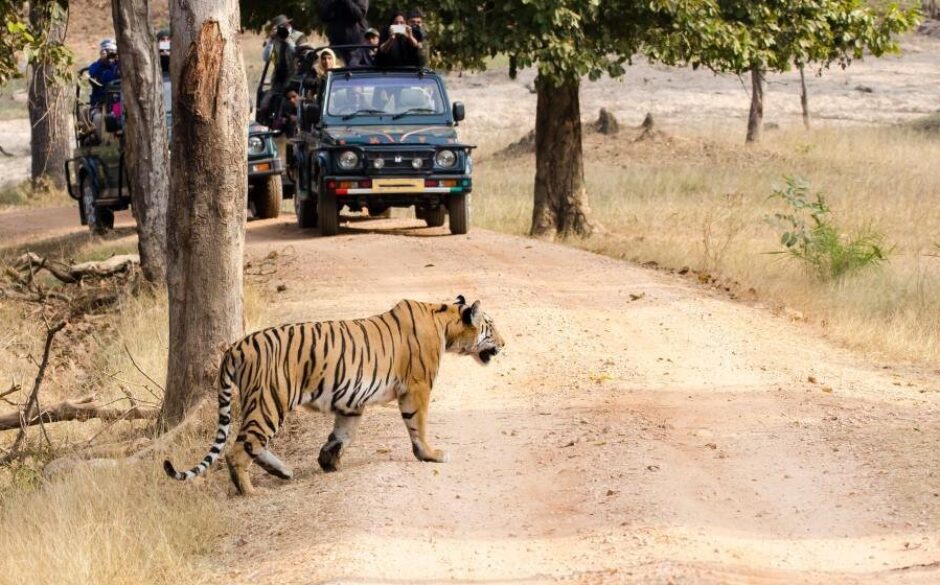 Kanha National Park, Madhya Pradesh
Also known as Kanha Tiger Reserve, Kanha National Park is one of Asia's best-kept national parks and is the habitat of India's renowned Bengal tigers. The deer and antelopes they hunt wander the beautiful forests and meadows, accompanied by Indian elephants, sloth bears, and various birds.
This park is home to 500 of the 6,000 tigers that are thought to exist worldwide, making it one of the best places to find tigers in India and its 30,000km2 area contains some of India's finest tiger habitat.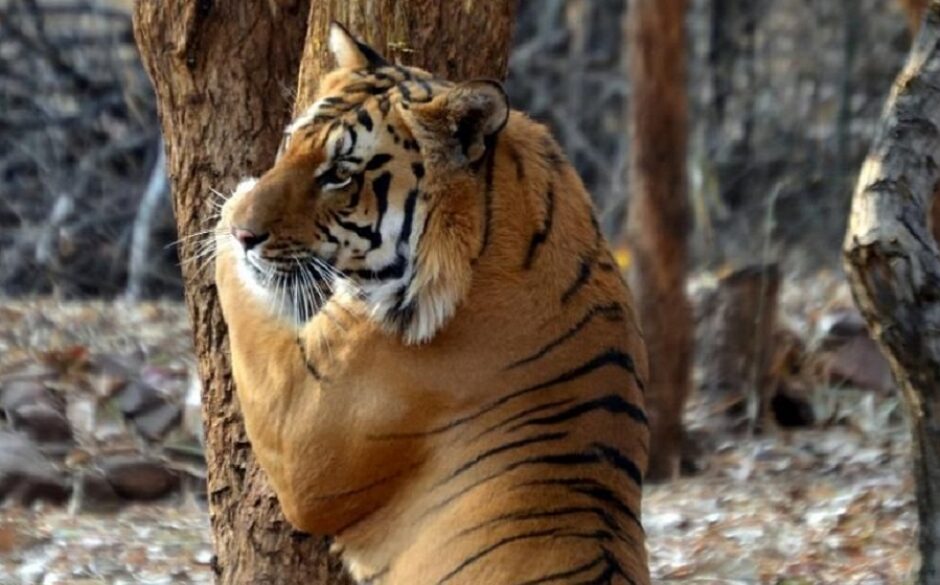 Satpura National Park, Madhya Pradesh
See amazing wildlife at a close distance by jeep, canoe or on foot in the unspoiled unique ecosystem of the calm Satpura National Park. Many types of mammals including bears, antelopes, leopards and wild boar meander through the beautiful hilly terrain.
With just 50 tigers in the park, they might be slightly more elusive to spot, but Satpura is still among the loveliest locations if you wish to observe other types of wildlife, including enormous squirrels!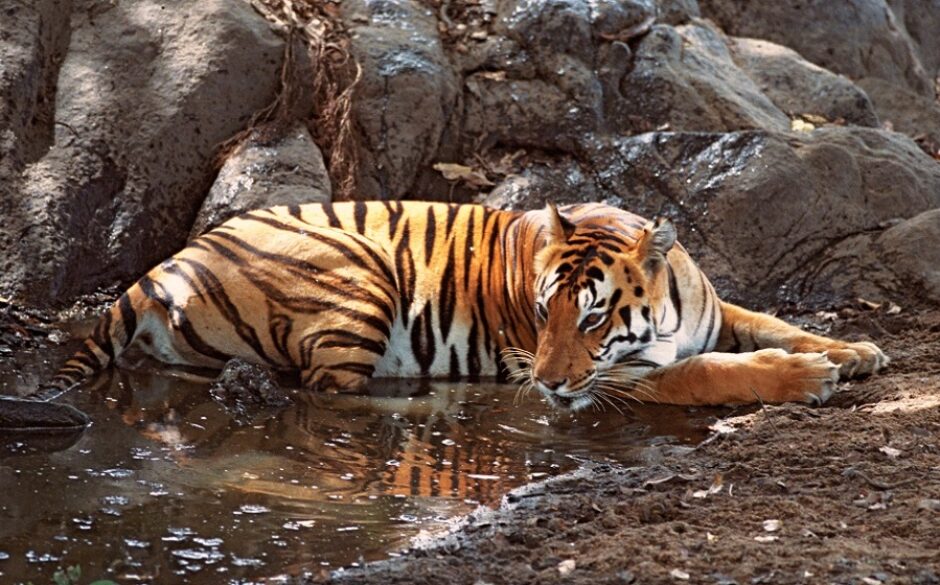 Panna National Park, Madhya Pradesh
In 2009, Panna National Park was nearly devoid of any tigers due to poachers, but thanks to a repopulation programme, tigers roam around once more. In 2021, the number had increased to 64 thanks to 12 tigresses who are actively breeding. These tigresses gave birth to 16 cubs in the same year.
Alongside tigers, you'll also find a multitude of creatures within the park, including leopards, chital, nilgai and sloth bears.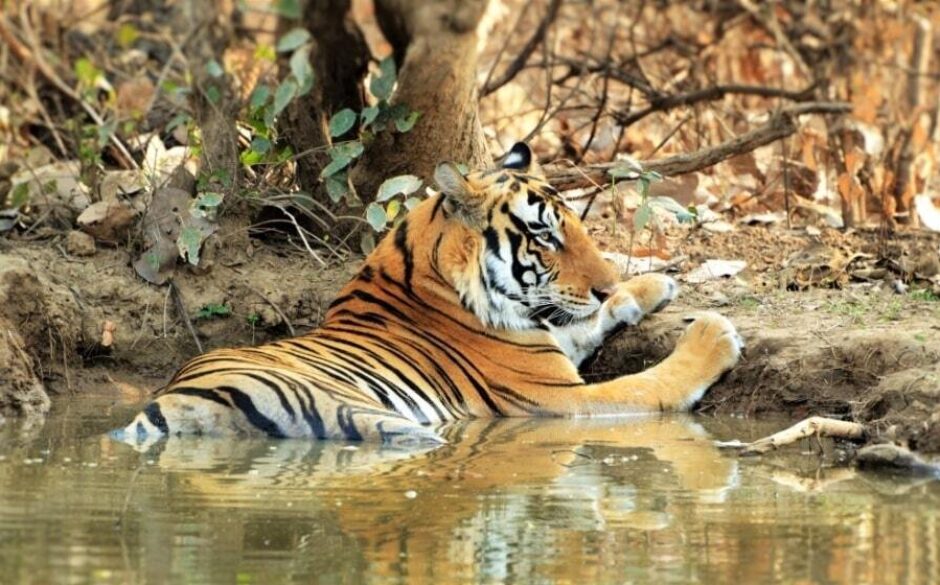 Tiger Spotting Tours of Central India
East India
Kaziranga National Park, Assam
Surrounded by the Karbi Anglong mountains and the Brahmaputra River, the stunning Kaziranga National Park is one of the best places to find tigers in India.
Kaziranga National Park was declared a Tiger Reserve in 2006 and nowadays has the highest density of tigers in the world (1 per 5 km2), with a population of 118, according to the latest census.
The park also hosts two-thirds of the world's endangered Indian one-horned rhinoceros population, and you can also spot elephants, wild water buffalo and swamp deer, along with beautiful migrating and inhabitant birds.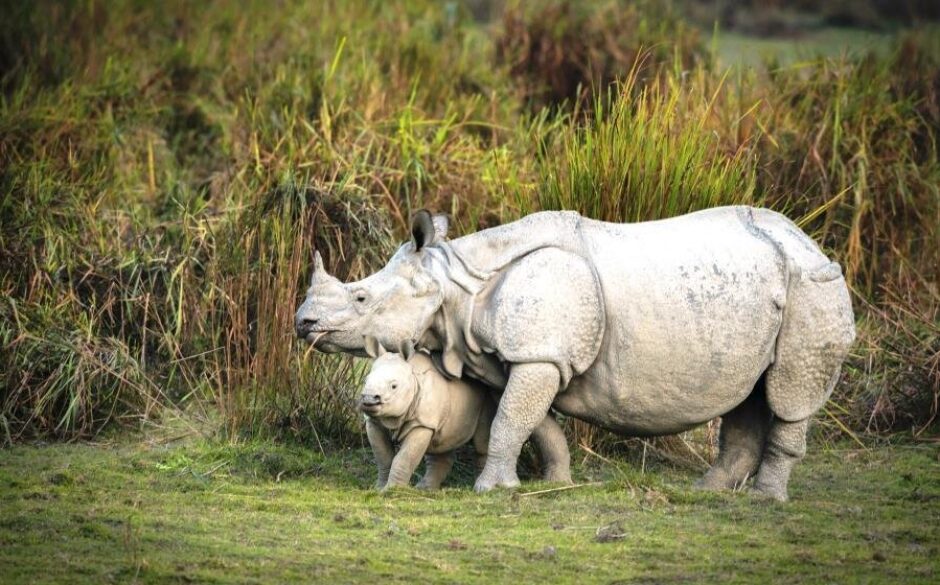 Sundarban National Park
A designated UNESCO World Heritage Site, Sundarban National Park is the world's largest mangrove forest, literally translating as 'beautiful jungle'.
One of the largest Tiger Reserves in the world, the Sundarbans offers visitors the chance to see the Royal Bengal Tiger, one of India's most recognisable wildlife species. There are around 96 resident tigers in the park.
A large variety of biodiversity, including over 260 bird species and other creatures including rare species like the Indian python and estuarine crocodile, call the Sundarbans home. The park is also the location of Bhagabatpur Crocodile Project, the only crocodile project in West Bengal.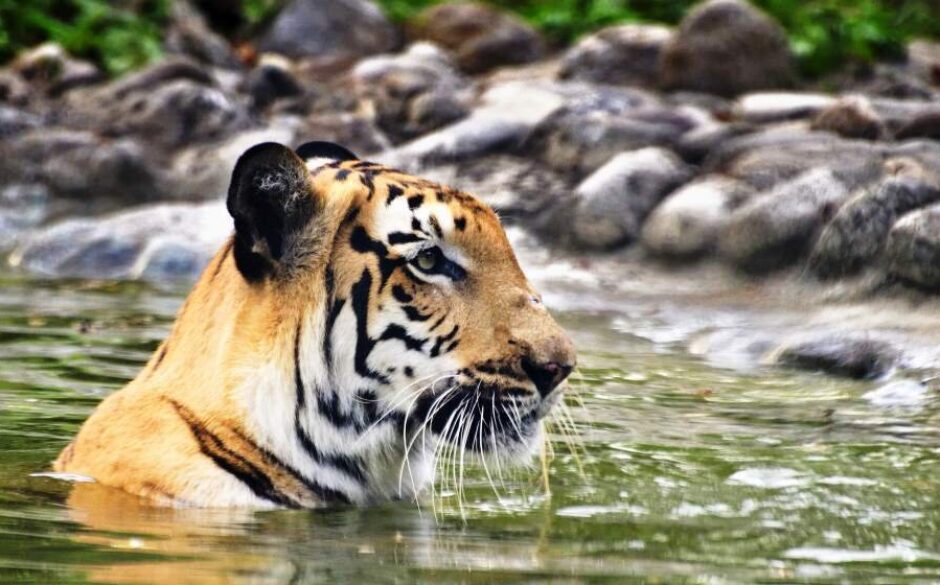 Tiger Spotting Tours of East India
South India
Nagarhole National Park, Karnataka
Once the Maharaja's reserved forest, Nagarhole National Park covers the gentle hills bordering Kerala and houses swampland, deciduous forest, and valuable teak and rosewood trees. Nagarahole Tiger Reserve continues to be the most densely populated tiger reserve in Karnataka, with more than 125 adult tigers roaming in 644 sq km of protected area, which is 11.82 tigers per 100 sq km range. This makes it one of the best places to find tigers in India if you're visiting the south.
In addition to tigers, the park also has elephants, leopards, gaur (Indian Bison), dhole (Indian Wild Dogs), monkeys sambar deer, along with a diverse selection of bird species.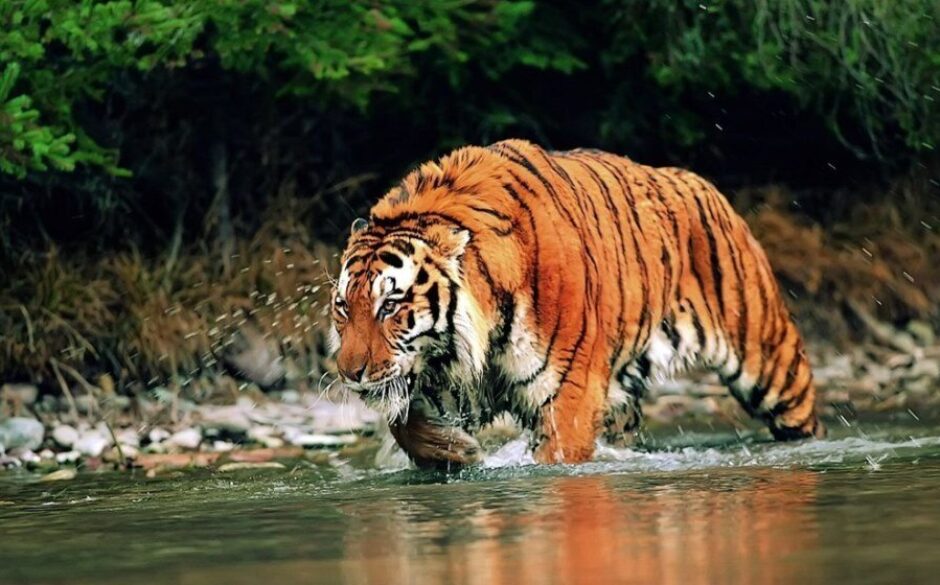 Bandipur National Park
One of the best places to find tigers in India if you're visiting the south is Bandipur National Park. Spread over a whopping 874 km, the park is committed to protecting endangered species of animals.
Established as a Tiger Reserve in 1974 under Project Tiger, the park is home to around 170 majestic Bengal tigers, as well as Indian elephants, wild boar, sambar deer, Indian leopards, over 200 species of bird, many reptiles and numerous rare butterflies.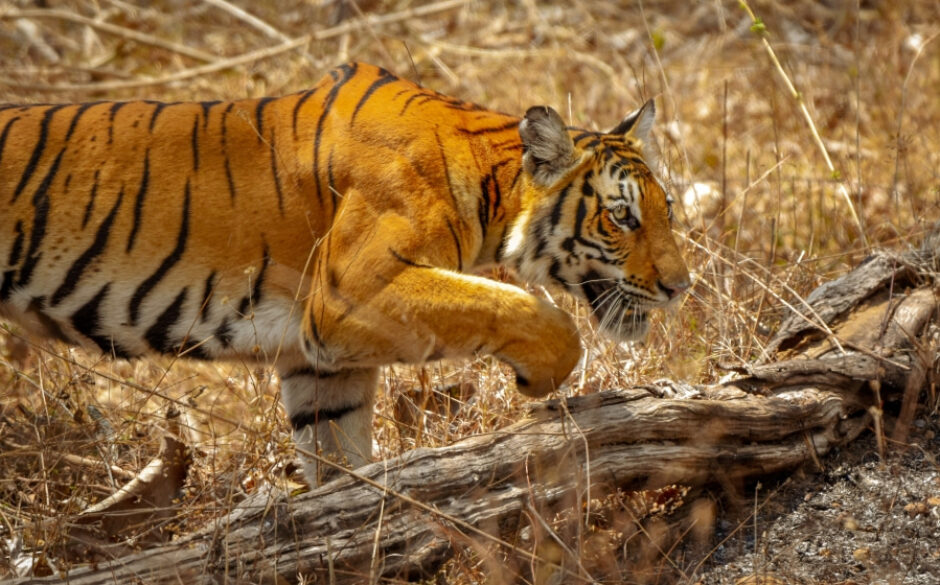 Periyar National Park
Situated in the middle of the beautiful Cardamom Hills lies Periyar National Park and Tiger Reserve, home to rare, endemic and endangered flora and fauna. The best way to explore the park is by covered boat, to try and spot mammals including Bengal tigers, Asian elephants, white tigers, Indian giant squirrels, numerous reptiles, amphibians and around 266 species of bird.
The tiger population in the area is estimated to be about 40. Although it is difficult to sight the tigers, visitors often spot scratch marks around the reserve.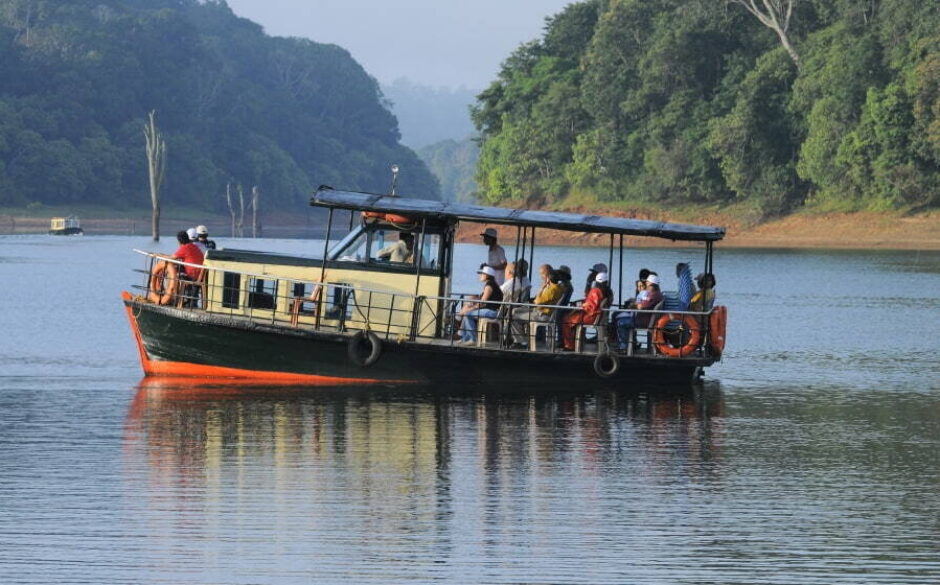 Tiger Spotting Tours of South India
We hope our guide to the best places to find tigers in India has inspired you to take a tiger-themed tour! For any help crafting your dream holiday, contact the team today.