Kerala travel tips from an insider
Clad in tropical scenery, vast waterway networks and tea and rubber plantations, Kerala's landscape feels light-years away from India's otherwise thrumming city streets. But climb down from the sloping mountains of the Western Ghats and you'll find traditional Indian villages with unique flavours all of their own.
Kerala travel tips
If you're travelling to Kerala to help you get the most out of your holiday, we've compiled a list of insider tips that'll help keep your trip authentic and local.
Where to go in Kerala
The first of our Kerala travel tips is where to go. No two of Kerala's cities are created equal – each one offers a very distinct essence. If you're looking for an authentic experience that will take you off the beaten track, there are plenty of lesser-known pockets where local roots run deep.
Cochin
Cochin is home to the main Kerala airport, making it a great gateway for wider exploration. It's a colonial fishing hub which harks back to its days underneath Portuguese rule. Most newcomers stop along the waterfront for views of the Chinese fishing boats but ask about the fishing village for a true taste of Cochin life.
Mararikulam
This village is known for its authentic and quiet beach lined by coconut trees. It's aptly nicknamed the 'secret beach' and is a favourite among locals. Mararikulam also boasts the stunning Sree Mahadeva Temple, one of the oldest temples in India, and the only temple where the deities Shiva and Parvati sit facing each other.
Munnar
Endlessly green and paved with tea plantations, Munnar is tucked up in the Western Ghats. Sipping tea straight from the source is the obvious, unmissable activity here, but hikes and cycle trips around the sometimes-steep hills offer first-hand views of the natural landscape.
What to do
Experience elegant and unique Kathakali dance
Kathakali is Kerala's very own brand of dance, combining storytelling with music, dance, acting and incredibly colourful and elaborate costumes. There are centres featuring Kathakali performances throughout Kerala. Arrive early and you'll get to see performers intricately applying their makeup. Definitely one of our favourite Kerala travel tips!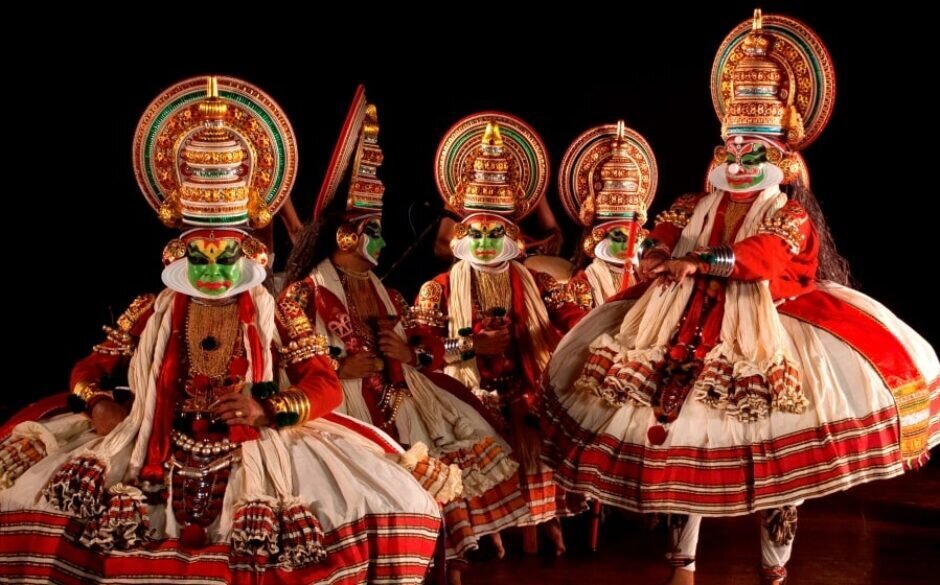 Unwind and relax with an Ayurveda massage
In keeping with the theme of Kerala traditions, Ayurveda is the ancient Indian medical practice for mind-body health. While Ayurveda treatments can range from full medical consultations to dietary advice, you can also get a quick taste with an Ayurveda massage.
Centres with a Green Leaf or Olive Leaf certification mean they're verified by the Kerala Tourism Board, so look for this in advance if you want to ensure you're getting a quality experience.
Eating out: a highlight of travelling to Kerala
Kerala is known as the 'Land of Spices', with traditional Keralan cuisine classified as medium-spicy. Expect bold flavours and dishes particularly heavy in chillies, coconut and turmeric.
Unlike some of its neighbours, Kerala isn't afraid to dish up plates with meat, so non-vegetarians have something to look forward to. One unique way to engage with Keralan cuisine is by taking part in a local cooking class. They're less class and more demonstration, but the chef du jour will show you the ins and outs of each dish before you sit down to eat.
Kerala's heart is colourful and grounded in tradition, and luckily the locals are more than happy to provide a window inside. If you're heading out this way soon, have a look at our bespoke tours to see how we can show you the real Kerala.
Discover Kerala
If you're feeling inspired by our Kerala travel tips, take a look at a wonderful range of Kerala tours and holidays or call our India specialists on 01792 315499