Surf's Up for Surfing in India
With all the yoga, wellness activities, trekking and fishing that the country has to offer, visitors frequently overlook India's new-found infatuation with surfing.  Surfing in India is a thrilling adventure that extends beyond the shores of the popular beach destinations in South India. While South India, particularly Goa and Kerala, have gained recognition for their surfing culture, other regions in India also offer incredible opportunities to ride the waves. Let's explore the exhilarating scenes for surfing in India, from the popular south to the mesmerizing Andaman Islands.
Surfing in South India
You might not see the eight-metre high swells you would in Indonesia or Australia but the low-key atmosphere of Southern India and its matchless coastline provide the perfect place for beginners to learn to surf or for more experienced surfers to work on their technique. Since this is quite a new hobby for India, the best surf beaches are much less crowded than some of the other more popular destinations around the world, which is ideal for experimenting with your board. So, as you make your way hopping between the best beaches in Kerala, be sure to check out some local surf schools too.
Some of the best surf spots are in the South – both in the east down the coast of Tamil Nadu, especially around Chennai, as well as the 500 miles of coastline running alongside the western states of Karnataka and Kerala.
The best time of year for surfing in South India
During the winter months from October to March, the weather is pleasant, and the waves are consistent, making it ideal for both beginners and experienced surfers. The monsoon season, which occurs from June to September, brings heavy rainfall and choppy seas, so it's not recommended for surfing during that time.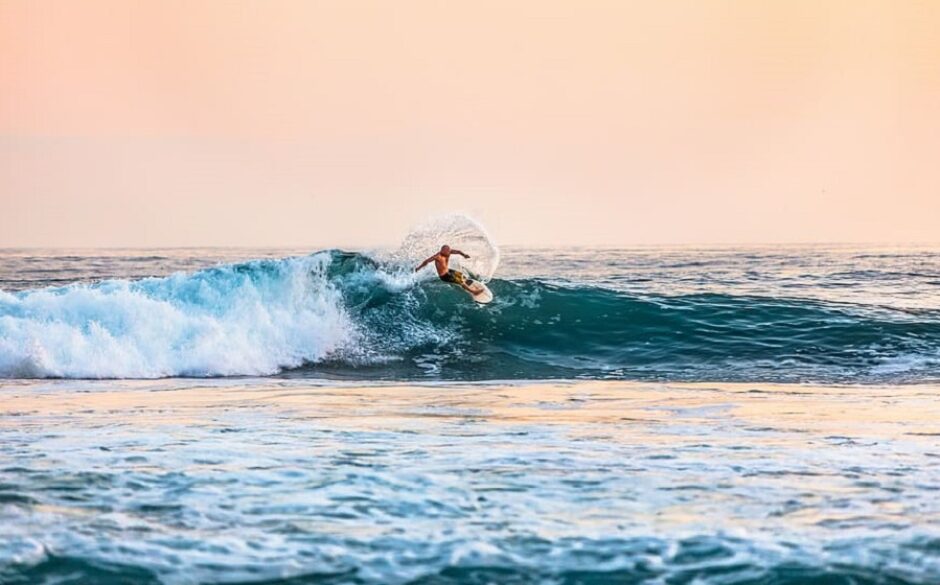 Surfing in North India
In North India, the coastal state of Odisha stands out as a surfing hotspot. Puri Beach, located in the town of Puri, is known for its consistent waves, making it a favourite among surfers. The long sandy stretches and strong swells create ideal conditions for both beginners and experienced surfers. Additionally, Konark Beach and Chandrabhaga Beach in Odisha also offer fantastic surfing experiences, attracting enthusiasts from all around. However, it's important to note that the waves in North India are generally smaller compared to other regions in the country.
The best time of year for surfing in North India
The best time to surf is during the summer months from April to June, when there are relatively calm and favourable weather conditions along the coasts of Odisha, providing excellent opportunities for surfing.
Surfing in West India
Moving to West India, the state of Maharashtra showcases its hidden gem for surfers. The coastal town of Ganpatipule boasts pristine beaches that provide excellent opportunities for surfing. With its untouched coastline and consistent waves, Ganpatipule has become a haven for surfers seeking an offbeat and adventurous experience. Other notable spots for surfing in West India include Tarkarli Beach in Maharashtra and Devbagh Beach in Karnataka.
The best time of year for surfing in West India
In West India, the best time to surf is during the monsoon season, which runs from June to September. The monsoon brings consistent waves and offshore winds, creating favourable surfing conditions. It's worth mentioning that the monsoon season in West India may also bring heavy rainfall, so surfers should be cautious and monitor weather conditions.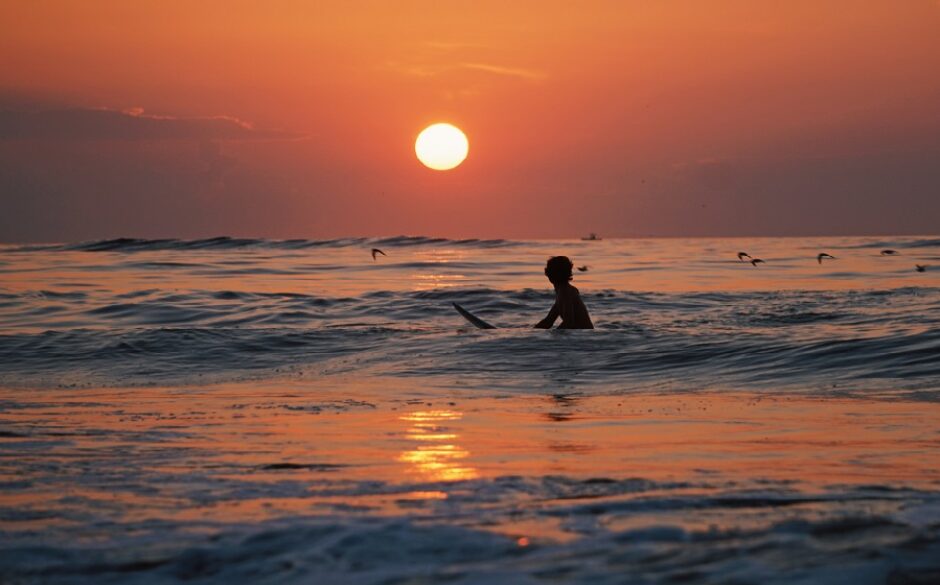 Surfing in East India
In East India, the state of West Bengal offers a unique surfing experience. Located near the fishing village of Mandarmani, the beach here provides a delightful mix of peaceful surroundings and thrilling waves. With its gradual slope and suitable wave conditions, Mandarmani attracts surfers of all skill levels. Surfing festivals and competitions held in West Bengal further showcase the region's growing surfing culture.
The best time of year to surf in East India
For East India, the ideal time for surfing is from October to February. During these months, the waves in West Bengal, specifically around Mandarmani Beach, are at their best. The weather is pleasant, and the sea conditions are generally suitable for surfing. The summer months from April to June can also offer decent surfing opportunities, although the waves may not be as consistent as during the winter season.
Surfing in the Andaman & Nicobar Islands
Lastly, the picturesque Andaman Islands are a paradise for surfing in Indian located in the Bay of Bengal. With its crystal-clear waters, stunning coral reefs, and unspoiled beaches, the Andaman Islands offer a breathtaking backdrop for surfing. Havelock Island is particularly renowned for its world-class waves, including the popular surf break known as "The Point." Other notable surfing spots in the Andamans include Radhanagar Beach, Elephant Beach, and Little Andaman.
The best time of year for surfing in the Andaman & Nicobar Islands
Andaman & Nicobar Islands: The Andaman and Nicobar Islands enjoy a tropical climate throughout the year, making it possible to surf there year-round. However, the best time for surfing in the Andamans is from October to May. During these months, the islands experience calm seas, offshore winds, and consistent swells. The water temperature remains warm and inviting, providing an excellent environment for surfers to enjoy their time in the pristine waters of the Andaman Islands.
One of the most famous Indian surfers is Ishita Malaviya – check out her Instagram for surfing in Indian inspiration. She's India's only female competitive surfer – though hopefully not for long! – and she also co-founded one of the popular surf schools in Karnataka.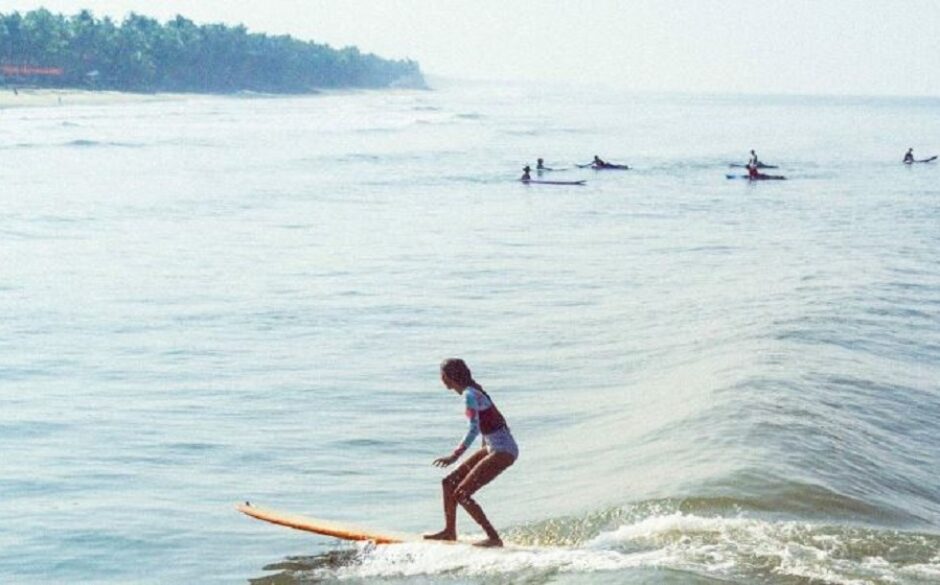 Preparing for Surfing in India
Have we convinced you to try your hand at surfing in India? It's never too late to start. You can prep by doing push-ups on your living room floor! Remember, you don't have to be good to consider yourself a surfer – if you just enjoy being in the waves and messing about on a board, you're already there…
If surfing in India really isn't your thing but you still fancy being on the sea, you can always spend an afternoon dabbling about in an open water kayak or peacefully paddleboarding alongside fishermen.